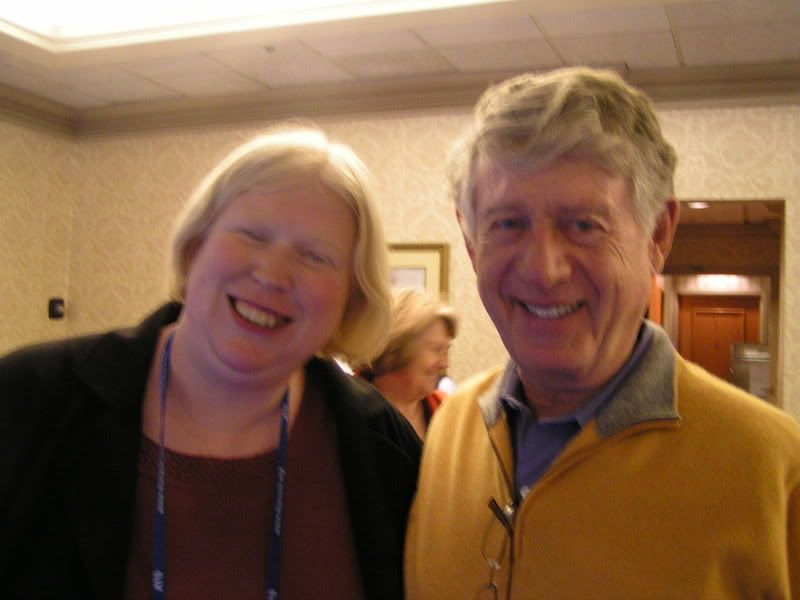 One of the people we met at the American Thoracic Society events was Ted Koppel. Mr. Koppel's wife has COPD, or Chronic Obstructive Pulmonary Disease. I'm not sure if she has Alpha 1 or some other lung malady that causes COPD. She and her husband were spending a lot of time with John Walsh from the Alpha 1 Foundation – but John Walsh has been working on a much bigger COPD project. (Many people with Alpha 1 develop COPD.)

It's awkward to meet a celebrity that you really have a lot of respect for. I remember when I was in college in journalism school watching him on TV. I would have killed to have been able to pull him in a corner and have a nice little chat about world events – but it wasn't really that kind of venue and I didn't want to seem like a star struck groupie.

I did, however, manage to ask to have my picture taken with Mr. Koppel. I felt like such a silly schmuck, but then again, I knew that if I let the opportunity get away, I'd be kicking myself.

When we mentioned to the HPS community that we met Ted Koppel, everyone's first thought (as is the case with any rare disease group) was could we get him interested in HPS? Would he help us?

The Koppels have their own lung disease for which they advocate – however, Mrs. Koppel does have a lot to say about the greater lung disease research picture. She points out, as we all do, how little money is spent on lung disease research overall compared to other diseases with similar mortality rates.

Mrs. Koppel talked with us about how so much of the public looks at lung disease as something that is your fault. Everyone assumes that if you have lung disease that you've been a smoker all your life. First off, no one says that about people who eat hamburgers and French fries and develop heart disease. Secondly, many of us were never smokers. There is this attitude that somehow people with lung disease deserve it and that's something we've got to educate the public about and overcome.

To that end, Mrs. Koppel is advocating for all of us.

And Mr. Koppel was extremely gracious about posing for a picture with me.